Date & time: 25 Feb 2019, 5:00 pm - 8:30 pm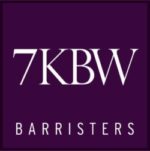 The members of 7KBW are delighted to invite you to the annual Lords Goff and Hobhouse Memorial Lecture.
The following lecture will be given by Lord Justice Longmore:
Is law no more than a working hypothesis?
Lord Goff so suggested in his 1986 Child & Co, Oxford Lecture. But was he right?
Registration from 5pm
Lecture will start at 5.30pm
Drinks reception to follow
All enquiries to events@7kbw.co.uk or call Chantal on 020 7910 8300.
Book a place
Venue: Main Hall, Inner Temple, Crown Office Row, London EC4Y7HL